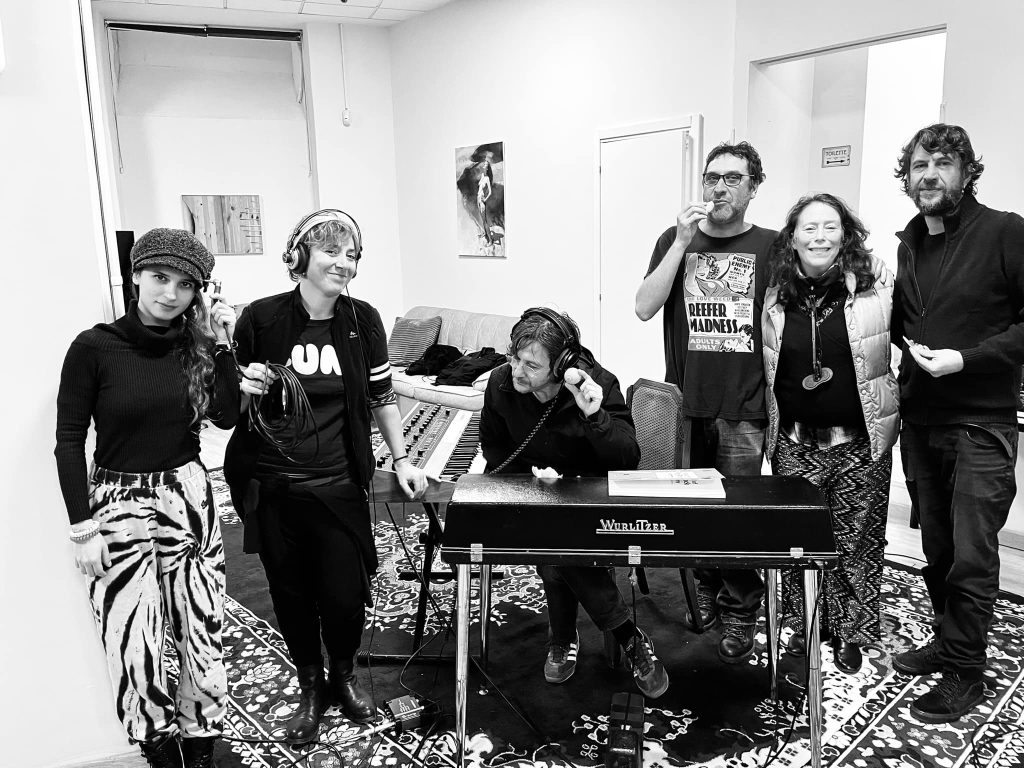 OU'S THIRD RECORD

Spoot Music (USA) Kappabit(ITA)
Folderol Records (ITA)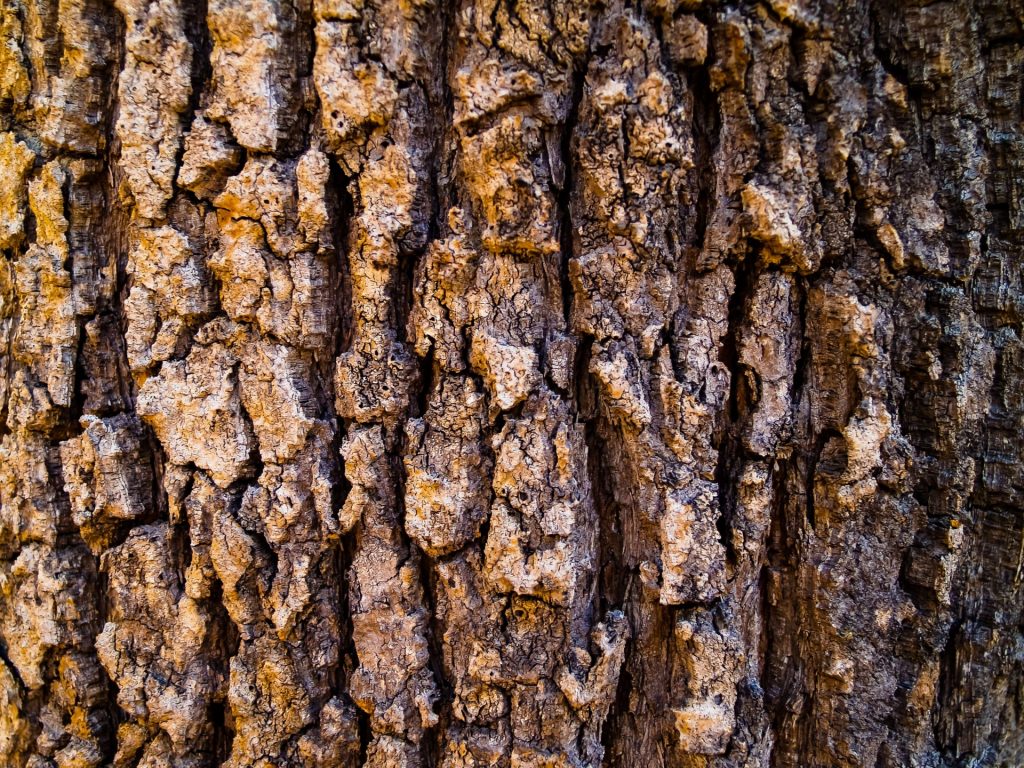 Ersilia Prosperi – Composizioni, Tromba, Flicorno, Background Vocals
Valeria Sturba – Lead Vocal – Theremin – Violino
Cristiano De Fabritiis – Batteria, Background Vocals
Andrea Pesce – Piano, Background Vocals
Claudio Mosconi – Basso, Background Vocals
OU is dialect for egg in Sardinia, the remote island in the mediterranean. OU is finally amongst us, the news has come. The egg said to be an ancient thing of distant origins. Others are convinced that OU comes from the far future, like a signal for our generation. Spotted at the circus, in a jazz club, in line at a mall during the christmastime, singing and laughing with a group of pygmies, partaking in a thai cooking class. A collective burning desire is to hear that egg wail on ukulele in a teeny tiny bedroom…And who can forget the great speculation: the first hypothesis of the egg was it gave forth to new forms, the embryo of something unexpected. Some kind of creature not filling any known categories. Furthermore, those smitten by dogma say that the egg's contents are the origin of existence itself!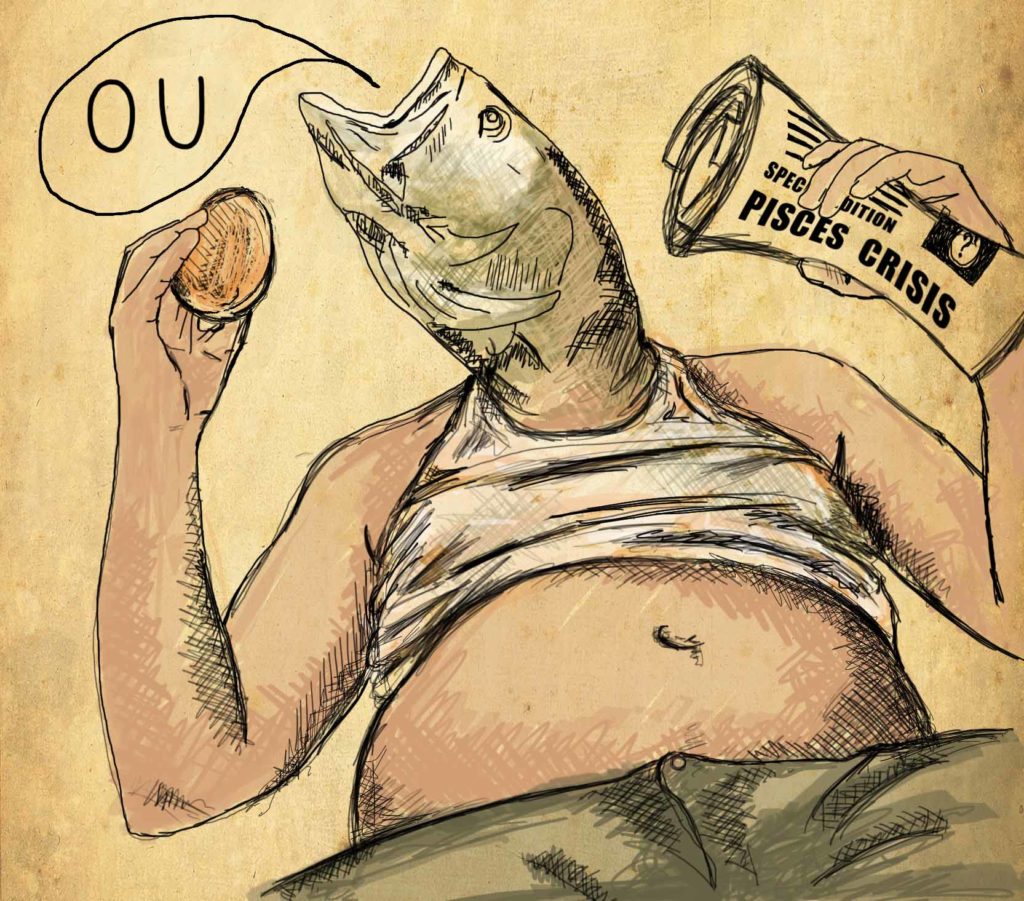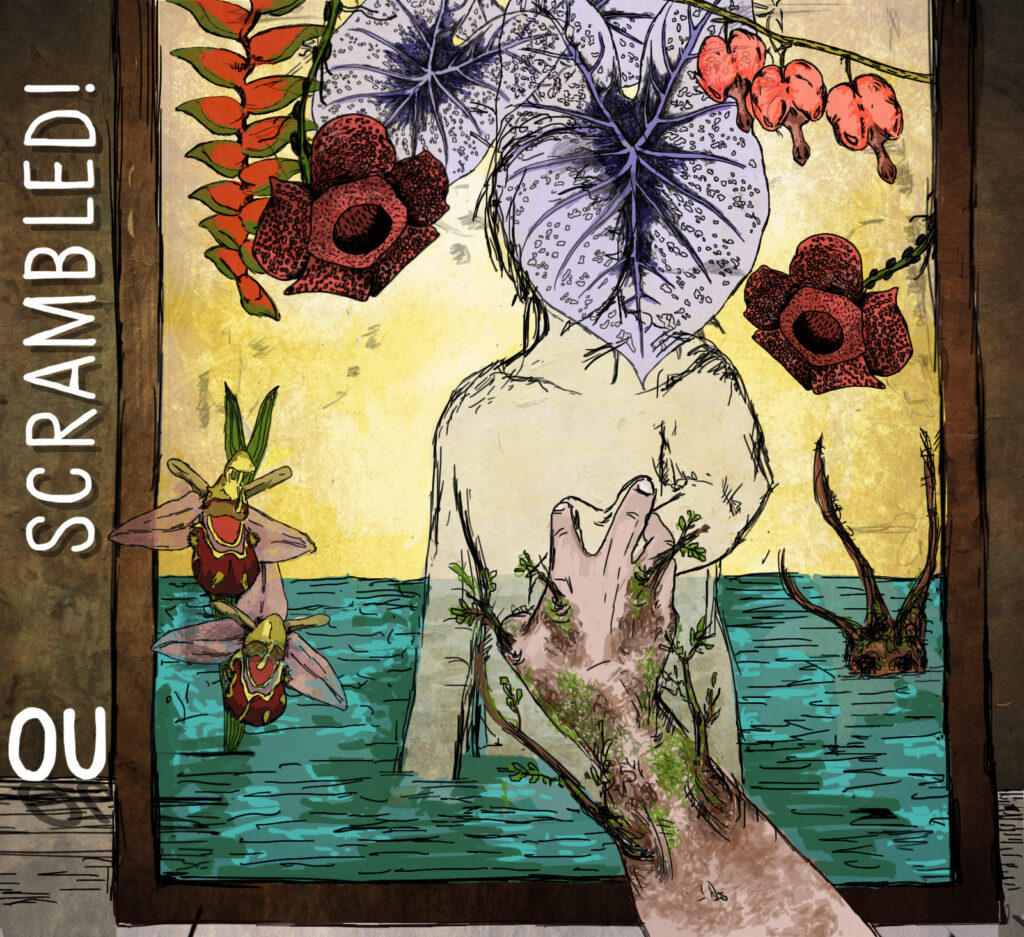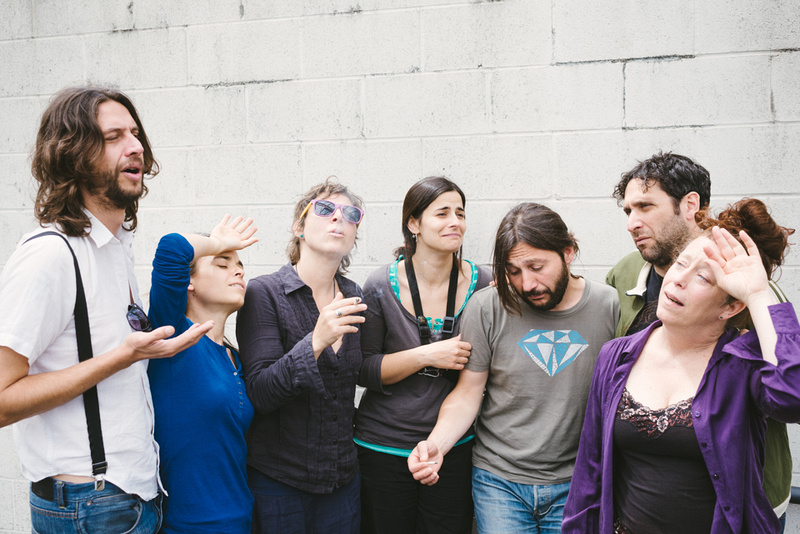 Ph. by A. Zbitnoff, KEXP RADIO (Seattle)
JAZZ WEEKLY – Here's a fun one! An Italian sextet lead by Ersilia Prosperi who composes, sings and plays the trumpet and ukulele he in artsy and quirky tunes that are sung in English, Portuguese, Spanish, Italian and even Sardinian. She brings together Sabrina Coda/sax, Martina Fadda/voc, Luca Venitucci/key, Claudio Mosconi/b and Cristian De Fabritiis/dr for 12 pieces that are divided between short little vignettes of voice and horns and 4-6 minute pieces that swing, sway, bounce and groove with joy.(..)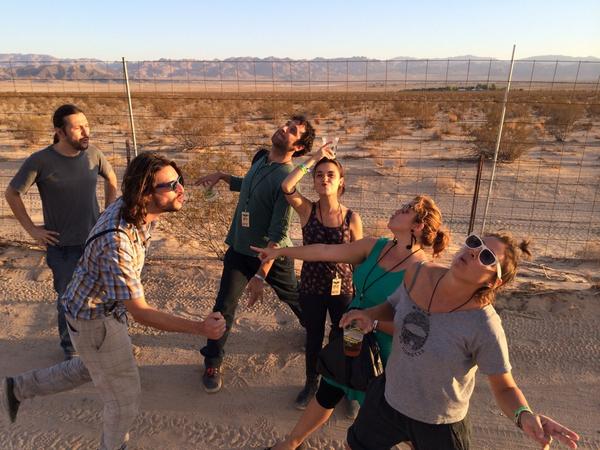 Ou – Joshua Tree Music Festival (LA)
AVANT MUSIC NEWS – Ou – a Rome-based Sardinian sextet – sound like no other group. Scrambled! is their second release, a set of music written by Ersilia Prosperi, the group's trumpeter/flugelhornist/ukulele player. The nine songs, sung by Martina Fadda with the assistance of the others, are an uncategorizable collection of cheerfully skewed post-art songs in a babble of languages – Sardinian, French, Spanish, Portuguese, English and Pygmy, several of them often occurring in the same song..(…)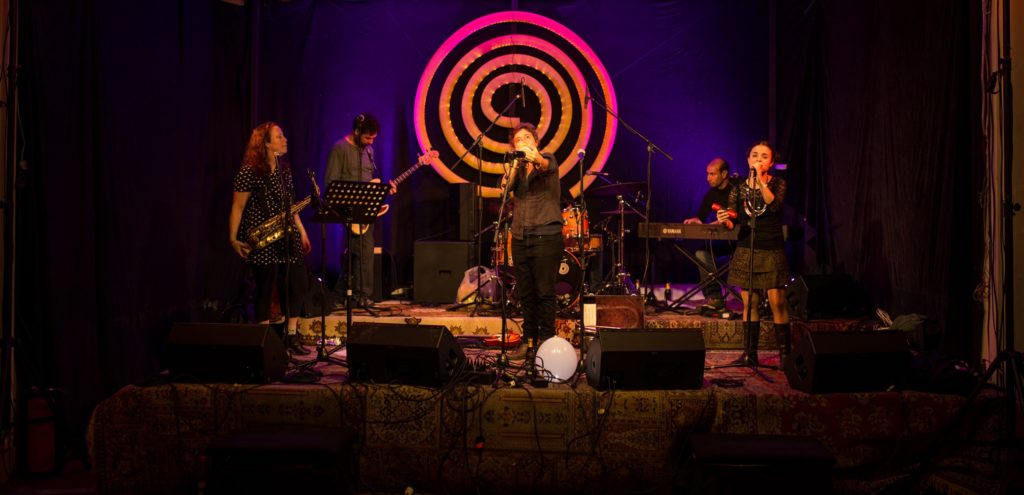 Ou – Folk'n'Fusion, Hildesheim
LA VOCE DI NEW YORK – About a year after their first recording Pisces Crisis, and after two long US tours with a stop in New York last spring, Denio released Scrambled!, the second album by OU, ('egg' in Sardinian), the eclectic band founded by Ersilia Prosperi, who is a jazz trumpeter, composer and much more. Scrambled! is the title of OU's latest recording project; from the first listen it reveals a fresco tinged with eccentricity and savage irony, experimentation, improvisation and a rational anarchy of sounds..(…)
Born in Rome in 2014, OU has recorded two albums of original compositions by Ersilia Prosperi respectively in 2014 and 2015, Pisces Crisis and Scrambled! both recorded in Seattle by Floyd Reitsma in Stone Grossard's Studio Litho (Pearl Jam), produced by Amy Denio, mastered by Chris Hanzsek (Nirvana) and released by US labels Spoot Music and Public Eyesore. OU with Amy Denio, Martina Fadda, Sabrina Coda, Claudio Mosconi, Cristiano De Fabritiis, Luca Venitucci, Andrea Pesce and Cristina Pecorario attended the stages and radios of the American west coast, in two long tours that led him to participate in festivals of international prominence such as the Earshot Festival (Seattle, WA), the Joshua Tree Music Festival (Los Angeles, CA), the UC Botanical Garden Berkeley Summer Concerts (Berkeley, CA), Trinidad, Petaluma, Portland, the Bluewhale jazz festival in Los Angeles with guest Emily Hay. Ou also presented Pisces Crisis and Scrambled! in the European tour featuring Amy Denio at the Folk'n'Fusion Festival in Germany, opening the Calibro35's Space Tour and at Trento Jazz Festival, Urbino Jazz Festival, Fano Jazz Festival, Villa Ada Incontra Il Mondo. OU has recently begun the hatching of the third album in league with the multi-instrumentalist, singer and composer Valeria Sturba (Opopoiooooo).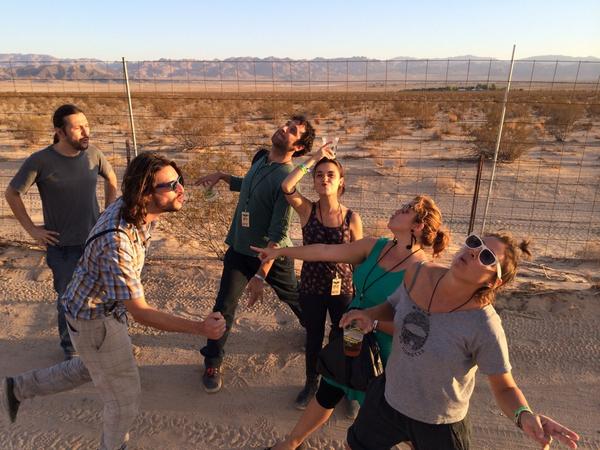 USA – B Dahlia Presents
bdahlia@mac.com
erlasia@yahoo.it